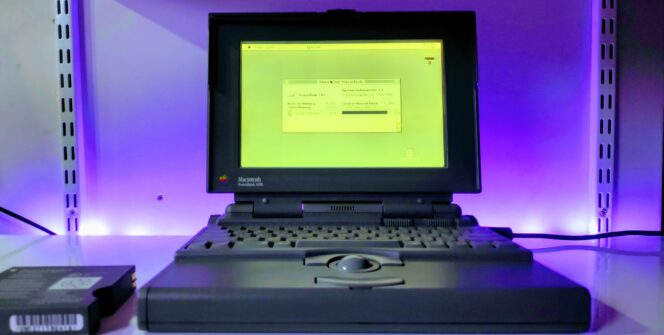 An Original Apple Powerbook 145B from 1993 This laptop is in excellent condition for its age and a rare example. A perfect collectors item as these do not come up often. The screen has been recapped with modern non leaking capacitors and is pin sharp with no fade. Floppy drive has been cleaned and renovated, formats, reads and writes to floppy disks and the motorised eject is working nice and smooth. 
The 140 series were the first Laptops completely designed by Apple themselves. This series introduced the concept of sleep mode when the clamshell screen was closed thereby saving battery power. The codename for this model was "Colt 45″
Original Apple Powerbook 145B Features :
25 MHz 68030 processor
4 MB of RAM
40 MB hard drive
internal 1.44 MB floppy drive
9.8″ monochrome passive-matrix display.
Includes :
Original power supply
Original battery but due to its age not recommended for use as could leak and cause serious damage. This does not affect normal operation using the PSU.
Original back flap, which is rare on this model as they are invariably lost over time.
Hard disk full of applications and games including Claris works versions 2 and 4
Two 3.5inch floppy disks
Free Delivery to UK Only

Goto updates on facebook or Twitter